April Live Music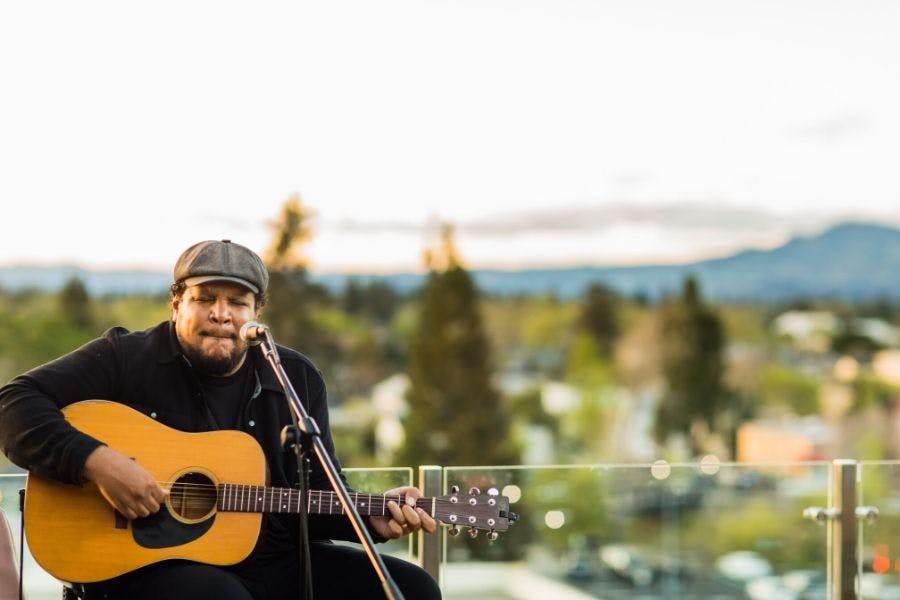 You know the electric feeling that wells up inside as soon as you hear the music playing? Yep, we love it, too. Soak up that vibe every Thursday (5 – 8 PM) and Sundays (11:30 AM – 2:30 PM) with some of the valley's most beloved local, national and international performers.
___________________________________________________
4.02 & 4.27 — Cincinnati Ambassadors: The Napa-based music trio plays an eclectic blend of blues and American roots music, spreading joy up and down the valley. Sky & Vine is proud to call them Thursday evening "regulars."
4.06 —Chris Pierce: An award-winning and critically acclaimed singer-songwriter-producer-instrumentalist, Chris Pierce has headlined and performed on tour with a myriad of prominent musicians. His songs have been featured in film and television, including a Super Bowl commercial, and his voice has been compared to soul-great Ray Charles.
4.09 & 4.20 — Smorgy: Napa native Jeffrey Fetters plays a smorgasbord of music — think country-western, classic and new rock, Motown, golden oldies and original tunes. He's played across the U.S. and throughout Europe, the U.K., the Caribbean and Central America. His '60s tribute band opened for such legendary acts as The Turtles and Paul Revere and the Raiders. Smorgy's show promises to be a "fun sing-along time."
4.13 — Dans of Steel: Bay Area-based band The Dans of Steel celebrates the music of Steely Dan, the prolific American rock band founded in 1972 by mastermind's Donald Fagen and Walter Becker.
4.16 — Hannah Brooks: Based in Northern California, Hannah Brooks is a singer-songwriter who's main music genres include acoustic, indie-pop, alternative, folk and R&B. She's been a finalist in the World Songwriting Awards and headlined the 2022 Sacramento Water Lantern Festival.
4.30 — Jacob Phillip Benning: A Sonoma County native, Jacob Phillip Benning has musical roots that stem from an eclectic background. Striving to honor these influences, he creates a recipe that appeals to the groovers and the shakers, the mindful musicians and the lyric lovers.